8 Classy Ways To Respond To "Will You Take Less?"
Have you ever been asked "Will you take less?" or "Can you do better than that price?" or "what can I get for $X" or "that seems really too high" or (and I love this one) "can you do it for free, I'll give it lots of shares, and it'll be great exposure".
Talk about a hard slap in the face!
'Expose', my butt!
What they just asked you is essentially saying - they don't think your work is worth what you are asking.
Rude - right?!
Been there! And our first instinct is to want to be rude back. BUT we are professionals, we have dignity, and oftentimes we are left speechless because our mature verbal filter is attuned with not hurting someone else's feelings. Even though they obviously have no regard for our feelings.
Over time, 20+ years, I've developed a strategy for dealing with this question and found the formula so to speak, of why it happens and what to do about it.
If you want to read my top 2 stories of "will you take less", click here and choose your adventure :)
- Use this Room as your blank canvas
- You'll get great exposure in my accounting office.
So read on for why it happens, what to do to be prepared and what to do next time.
Why Artists Take Less
When creatives are starting out, it is super easy just to succumb to the "take less" mentality, because of 3 reasons:
You need the money for financial security

To build your reputation or portfolio as an up-and-coming artist.
So believe me, no one faults you for taking less for any of the above reasons. We've all done it and, honestly, I think that's why some people think it is ok to ask.
But as you become more confident as an artist, you stop taking the low-hanging fruit offers because you have built up a solid reputation and can command more for your work.
So, it will get easier to say no, but hopefully, I can take away some of the pain now.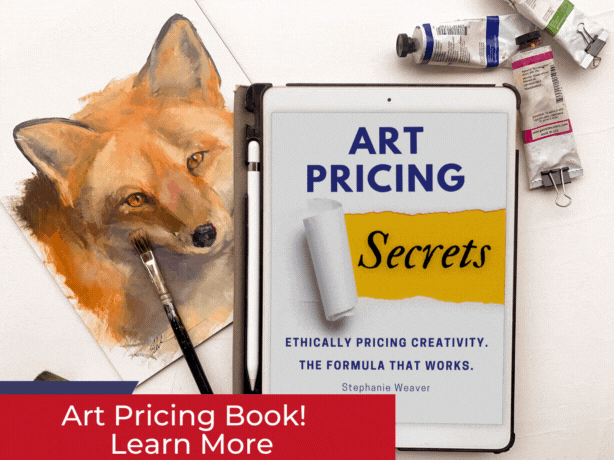 4 Things Artists Should Do To Prepare for the Question "will you take less"
There are 4 things you can do now to prepare your answer for the next time someone asks you "will you take less":
Develop a pricing structure for your work and stick with it. Know what an 8x10" pet portrait vs an 8x10" people portrait would cost. Do the math.
Publish your prices
Familiarize yourself with the 8 classy responses I've written below
8 Classy Ways to Respond to "will you take less"
And because no matter where you are in your art career, there will always be someone who asks "will you take less". I've developed 8 ways of responding in a classy fashion:
"I appreciate your request. I understand your need to save a little money in this uncertain economy. I do as well. However, with my agreements with my galleries and ensuring the integrity of the value of my collection to art collectors, I cannot in good conscience be able to undercut them. It would not be fair to them and their clients if I sold for less than they sell my work for. They depend on my integrity and honesty, just as I depend upon theirs. I hope you understand this matter. I can, however, take care of the shipping for you and wrap the piece if it is a gift. Consider this as a gesture of goodwill from my end if you are willing to buy my piece."

"I appreciate your request. I do my best to offer my work at the best price possible. It has taken years of sacrifice and perseverance to reach this point where I can finally sell my work at these prices. I feel it is important to provide the most value for the price and continue to increase my prices year after year so my collectors know they have a sound investment. That is why I think the initial price tag of my piece is very reasonable, and I cannot go any lower than this to remain fair to my collectors."

(For Art business consulting or pre-project consulting fee) – "Thanks for reaching out! I typically charge $X for this kind of consulting so I'm unable to answer this via email (direct message, etc.) but I'll drop a link below where you can book consulting time with me. Thank you"

"I appreciate your request. All my prices are calculated based on the effort and cost of materials and my experience. Diminishing the value of my work would be harmful to the integrity of my art and the collectors who purchase from me. I hope you can understand this and not try to bargain for a better deal as this offer truly reflects the sheer amount of hard work I put into this piece."

"I appreciate your request. An original piece of artwork is valued much higher because there is only 1 creation, a creation that is unique to the artist. If you would like a print I do offer those in various sizes. I can offer you the same size print for X and ship it directly to you, how does that sound?"

"Thank you so much for considering me! Please see the link here for my prices and process. Let me know if there are any further questions."

"This sounds like a great opportunity and thank you for thinking of me! If you would, please confirm this is a paid opportunity as I am currently accepting paid gigs only. Thank you again for contacting me."

"I appreciate you thinking of me for this wonderful opportunity. Unfortunately, I am unable to take on any unpaid projects at the moment but I will definitely circle back to you if my circumstances change. I am slumped with projects right now and this is why I can't accept any unpaid work currently. Hope you can understand."
Conclusion
There will always be people who think it is ok to ask "will you take less". The key to avoiding this hurting you mentally is to be confident in your work and to be unapologetic about your pricing. This is the price and it is worth it. Thank you.