What is Alla Prima? Learn How to Paint this Coffee Cup Still Life Oil Painting Online Class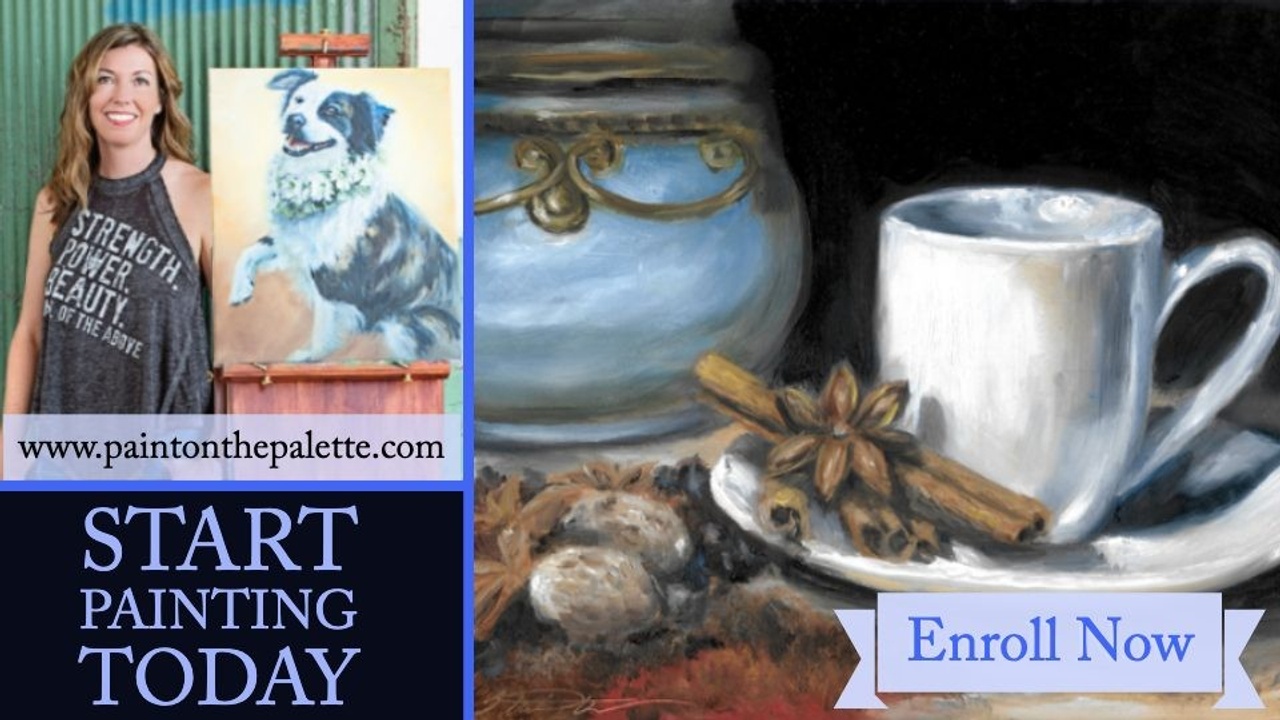 What is Alla Prima Painting?
Also known as "direct painting," Alla Prima painting style uses a technique of oil painting where the work is usually finished in just one sitting. This oil painting process can be used for the still life, portrait, floral, and landscape. I often use this technique in my daily paintings or when painting outside (plein air).
The paint is applied wet onto wet directly onto the canvas. Generally, there is not an underpainting or sketches in all prima, instead artists typically sketch the painting using thinned paint. But for my alla prima tutorials, I do lay down a sketch: this way, you will have a general idea of where your colors will be placed.
In alla prima and any painting style, we have to be careful with how we plan to use our colors because, without a good understanding of color theory, our colors can become quite muddy. As a result, in my tutorial, I do provide considerations on how to use color and why I choose specific colors.
Note: If you'd like more about color theory, in the Members Only Art and Art Business Resources library there is a neat tutorial that discusses color theory.
WHAT CAN THIS COFFEE CUP STILL LIFE TUTORIAL CAN DO FOR YOU?
I've seen many artists struggle with alla prima for the following reasons:
not sure how to control paint and
not sure how to prevent unintentional muddy colors
not sure how to balance painting loosely with a realistic feel.
Due to these reasons, I put together this tutorial, " Coffee Cup Still Life", available to members. My goal is to help you develop confidence with your creativity and assurance in oil painting. So, in addition to learning how to manipulate the paint, you'll also gain an understanding of:
how to create a 3D effect using soft and hard edges
how to manipulate color to subdue colors without creating mud.
☕️No beans about it! ☕️ This coffee cup wall art painting is the ideal tutorial "pick-me-up" your oil painting has been craving! Whether you are just starting oil painting or an experienced oil painter, a still-life painting of a white coffee cup is a delicate challenge for everyone.
WHY IS MY COURSE DIFFERENT FROM OTHERS?
Comprehensive and Structured Tutorials
I provide instruction in a practical approach, which will enable you to take experiences learned and apply them to other paintings.
You can learn to paint at your own pace and in the comfort of your own home using a practical approach
Ready-made Information
Get the right information at your fingertips. Save yourself months of time from searching YouTube videos, blogs, art books, and tutorials for quality information on how to use oil paint. This course contains information on how to paint you will not find anywhere else that is the result of many years of experience and research projects.
Improve your Artistry
In this online painting class, you will learn the best working practices right from the start.
They say the best time to plant a tree was 20 years ago. Start your growth today! Join the Online artist community to gain access to this course and so much more!