Top 5 Studio Organization Tips to Save you Time and Money
Don't you just love it when you know where all of your art supplies are? It just enables you to even further flow into what you are working on!
Here are my top five, and of course, I have my list because that keeps me organized, right?
#1 Studio Organization Tip
Showcase the main ingredient of your artwork! In the video above I show you how I used a frame, some butterfly clips, and screws to hang all of my paints.
When you showcase your supplies, it does 3 things for you:
Saves you money because you'll now see all that you have (so you know you don't need another cadmium orange)
Saves you time because you don't have to dig in a drawer for the paint, you know exactly where it is
Maximizes your space - instead of using up a drawer you can use a wall
#2 Studio Organization Tip
Label drawers and baskets. As you can see in the video above, I label pretty much everything using this little handy label maker I got a Walmart.
And the reason why I do it is because:
If you have little fingers in the house they're looking for often things like tape or cheap paints and paintbrushes that they can use. So I actually have a drawer labeled cheap brushes, tape, and paper - things everyone is often looking for.
It enables me to know exactly what I have and where it should be (including my little "stash drawer".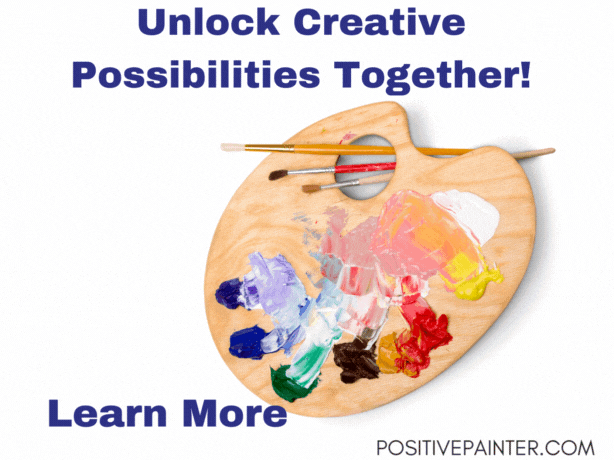 #3 Studio Organization Tip
Use pegboards to display your artwork.
Often there is limited wall space and I really don't want to put a ton of holes in my walls or frame everything to hang it up or stack paintings to rub against each other as they are curing.
So instead I installed a pegboard system. Lowe's has large sheets of pegboard (and they'll even cut them down to manageable sizes for you). Then, using 2x2"s build a box on the wall where you'll then screw in the pegboard. (see the video for details).
To hang the paintings I use these Pegboard Notch Hooks from Amazon (affiliate link). I use two on the bottom and one on the top, securing the one on the top with a little bit of Poster Putty.
Using your wall space with Pegboards does 3 things for you:
Organize your artwork by stages (curing time, working progress, ready to sell)
Showcase your artwork
Provides a visual reminder of what you are working on and at times helps you even figure out what needs to be modified as you look at it from a different perspective.
#4 Studio Organization Tip
Number four is to use some magazine box holders to hold your small art pieces. (Check out the video to see this in action.) I prefer the ones with open backs, that way I'm not constrained by size - I bought these at Walmart.
I paint on what's called Ampersand Gessobords that are 1/8" in thickness and I prefer to paint small which allows me to paint a lot. So once the painting is varnished and cured I can put them into the magazine holders and they are ready to post for sale or have prints made.
Using magazine boxes and Ampersand Gessobords or 1/8" panels allows you to:
Organize your artwork by collections (for example, I have a junk pile - things that were quick studies or painted in a class that I don't have rights to sell etc.)
Neatly organize on a shelf with wax paper in between each panel
#5 Studio Organization Tip
Display your tools.
So like I mentioned before, we've got kids and they know that I'm a little bit organized and so they know where to find things, and that's handy for them. But it's also handy for me because when I get ready to start a project, I want to have everything right there. You want it all very handy because there's nothing like that just irritates and breaks up your flow than having to stop and go find something right?
Using the scraps from the pegboard wall system, you can create another box specifically to hang whatever tools you need for your work. In the video, I show you my hanging system which includes my battery-operated screwdriver, hand-held screwdrivers, pliers, needlenose pliers, box tape, hammers, and more.
What this does for you:
Visually shows you that you are ready for whatever project your heart desires
Tells all the members of your family that this is where it is and where it goes back. :)
Wrap it up
So that's kind of like my studio organization tips, and I hope you found it helpful.
I want to know what you do, leave a comment below of what you do to stay organized because we all want more creative time, and being organized gives you more creative time, gives you more time in that flow.
And until next time, stay safe, happy, and healthy and happy, creating a nice.
Pin it For Later