Easy Email Marketing For Artists
You've participated in art shows, shown your work at parties, and everyone loves them....but for one reason or another they are not able to purchase right then....instead of leaving both of you wanting something more - why not get their email and send them a follow-up?
It can start as simple as that!
Over time it will build.
In this post I'm going to cover the following:
Top 2 Reasons to Build an Email List
Top 3 Suggestions on How to Build An Email List
Frequency and 20 Artist Newsletter Content Ideas
This is a packed Post - so you ready to start your email marketing?! Let's get started!
Top 2 Reasons Artists Need Email Marketing
You own the list
Direct communication with the audience
That said, let's break down what these mean and then how to start an email list.
Why artists should build an email list
#1 Reason to Build an Email List
The number 1 reason why you need to start an email list is: you own the list. And let me tell you why:
With Facebook, Instagram, and other social media platforms you are building your castle on rented land - meaning Facebook, Instagram, and other social media networks you are on trying to gain ground to show your work, can kick you off, or ban you or freeze your account for several weeks. Thereby cutting you off from your audience!
With an email list, you own the list. With an email list, you have the ability to communicate via email with them at any time, you have the ability to segment the audience based on their usage of your website, their behavior in emails and so much more.
As a side note, let's talk about galleries. This is also one of the many reasons I don't enjoy working with galleries because unless explicitly discussed and documented, galleries will not share with you who purchased your work, thereby preventing you from engaging and creating a relationship with current and future customers. But on the other hand, this is what also makes a gallery actually useful, they have developed a list of clients of the years that are actual buyers. So, my advice on this, if you get into an agreement with a gallery have it written that you obtain the contact information for each person who purchases your artwork.
The bottom line, you own the email list.
#2 Reason to Build an Email List
People love your artwork, they love to know the process, they love to know the thoughts behind each piece...so why not make it easier for them to gain access to that information than it is with social media by sending it to them in an email.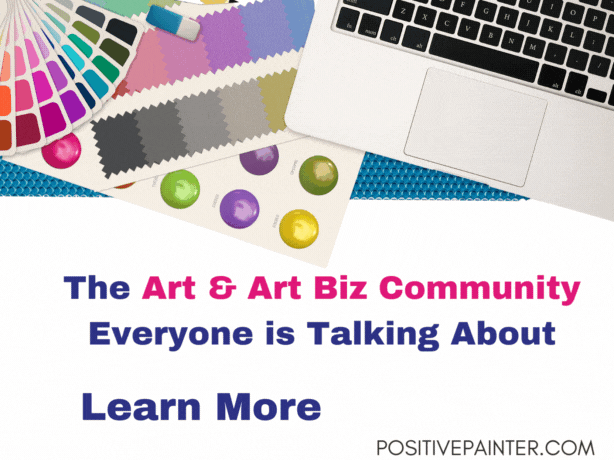 Top 3 Suggestions On How To Build An Email List
#1 Compile a List of Existing Buyers
So the low-hanging fruit is to contact the people who have already purchased your artwork. Contact them through Facebook Messenger, Email, Text - whatever means you have and ask them the following:
Hi (NAME)!

I'm starting a newsletter to chat about my latest artwork, latest sales/promotions, behind the scenes of my artwork. Would you be interested in learning more about that?
You can obviously add more personalization and use your own voice if you'd like, but that's the only ask: "Would you be interested in learning more about that?"
Wait for their reply.
If they reply no, politely thank them for considering it.
Once someone replies with a YES, YEAH!!! If they replied via email, take note of what their email address is. You can enter it into a spreadsheet or simply write it down for now. Later, we'll be putting these contacts into email software, but don't worry about that for now.
If you've communicated via something other than email, reply with something like:
That's great! Let me know what your email address is so I can stay in contact with you about this.
It is as simple as that!
#2 Create A Lead Magnet, a free offer or % off Discount
A lead magnet is something you give away to the people who sign up for your mailing list. If they are on your site, they like your artwork...so give them a taste of your artwork like, or high-quality screensaver or desktop wallpaper or 20% off their first print order. Digital offers are great because it is a lower cost for you but high-value for your potential client.
In order to do this there are a couple of approaches:
In-person approach. If you are at an art show or art fair, gallery, etc., then just let them know that if they sign up for your newsletter today you'll honor an X% discount for today's purchase. Have a piece of paper available to collect their name, email address and I'd add a column for their favorite piece.
Online approach. This is where you'll need to start using an Email Marketing Service to create a pop-up window and manage your list for you. Email marketing services will track the number of people who open your emails, and the number of clicks your email generates. That way you know whether the things you are writing about are generating interest. I recommend ConvertKit.com (affiliate link) as an email management service for artists which is FREE with a list under 1000. It's easy to use and does a great job with email list management.
Whatever email management service you use, you should make sure that you can generate a series of auto-responders. Auto-response emails go out whenever someone signs up for your list, making further offers, reminding people what you have for sale, or any other message that you might want them to have.
After you master the basics of autoresponders, you can do some pretty crazy stuff with an email to nurture your fans into collectors, but that's a bit advanced for this article. More to come on this inside the Positive Painter Community. If you would like to become a member of the Positive Painters and gain access to more art business resources click here.

# 3 Host a Giveaway
After you've done 1 and 2 above, and you'd like to get a periodic bump in subscriber activity and engagement, host a giveaway! You can collect email addresses for each giveaway participant. KingSumo.com makes it super easy to create a giveaway in minutes and watch the email subscribers and shares of your post continue to increase, and the best part - IT IS FREE!!!
The key to a good giveaway is to ensure that you are giving something away that your audience will want or that will bring in NEW subscribers that not only want the item but will also be great for future artwork pieces/products. So it doesn't need to be something huge like an iPad (cause seriously, unless you are teaching digital art and have affiliates with Procreate or something - an iPad is not something you need to giveaway), what works well are prints, products, custom pet portrait - maybe some of those sample products that you gathered from the 4 Day Create Passive Income Challenge available to Positive Painters! If you are an art instructor, maybe one of your courses or a brush set that you purchased. The thing to keep in mind is the value of the giveaway to your target audience.
These are the top 3 ways to collect email addresses! The tools to use:
Manual collection - paper and pencil :) then add these emails into the 2nd tool
Email Marketing Service - I use ConvertKit (affiliate link) - they offer it for free up to the first 1000 email subscribers.
KingSumo.com - simple, fast, FREE and easy way to manage a giveaway.
Email Frequency
Then the next big question is how often do I send out a newsletter? There are a ton of different views on this all over the internet. And here is what I've learned over the years, the number one rule is consistency. Create a consistent routine and do it no matter what. So really, really look at your process and figure out what works for you.
Sure, there are arguments about the best time of day to send, the best day of the week, how to target x segment during y time -blah - blah - blah - good gravy - isn't the world complicated enough! Just send the email and be consistent and the day and time, your audience, over time will start looking forward to reading the email!
20 Email Marketing for Artists Content Ideas
So what to talk about?.... I bet you didn't know you needed to be a writer when you decided to be an artist? We'll in truth you don't have to be! If you are more comfortable with video and talking about your piece - by all means do that! You can then use a service like Sonix (affiliate link) who will transcribe the video that you can then use as a blog post! Post the video on Youtube, Facebook, and point back to the artwork that is for sale! BRILLIANT!!! Two birds - one stone!
But if you aren't interested in video, no worries, here are 20 ideas of what you can put into an artist newsletter:
Current finished piece - what it is, title, size, thoughts behind it, what you love about it. Ask the question: what does this piece say to you?
Work in progress - what it is, proposed title, size, thoughts behind it, what feeling you want to achieve. Ask the question: do you know of someone who this piece would speak to? Feel free to share it with them, with "thought you'd like this".
Show your studio - we all love to see the inside of an artist's studio - especially if it is a hot mess!
Show your favorite art tool and describe why - include an Amazon affiliate link for a little side revenue stream.
Share an older piece that hasn't been seen - include a link if it is for sale or link to prints
Share a piece form your private collection (these are the pieces you've painted for yourself that aren't for sale)
Describe what inspires you
Share an epic fail - share that you aren't perfect all the time, it's relatable.
Share upcoming art shows - what booth number, pieces you'll be bringing, accept pre-sales now and they can pick up at the show (remember to send a PayPal invoice to ensure you get paid BEFORE you mark as sold, - seems obvious, but I know people who have been burned)....
Share a recent client testimony
Other artists who inspire you and why
Upcoming promotion/giveaways
Recent blog posts
Showcase your favorite time-saving/healthy recipe so you can stay in the studio longer
Showcase your favorite charity organization
Your favorite art books
Latest outdoor painting experience
Share your Studio Pet Pics
Share Frequently asked questions about your art and answers
Ask your subscriber what they would like to see more of!
IMPORTANT TIP #1 - Remember something (and I say this to myself too) you don't need to have a well-designed html template for your newsletter. KEEP IT SIMPLE!!! A simple, clean plain white background with a single image of your work and a simple story is just fine.
IMPORTANT TIP #2 - Don't ask for a sale in every single email - that's like your neighbor only knocking on your door every time they need something from you, eventually you'll stop answering the door - right?! You want to give of yourself, and let them get to know you and as the subscriber begins to Know, Like and Trust you, then they'll purchase from you.
Conclusion
Email marketing is a powerful tool that I recommend every artist begin using immediately. Build it into your routine. Learn to write/speak regularly about your work. Learn to use tools like ConvertKit, KingSumo, Sonix. By embracing modern marketing techniques, you can grow your audience and sales exponentially.
For a little bit more behind the scenes on email marketing and why I love Convertkit, Members have access to a Members Only Meeting from November 2020 where I did a brief demo.