Prepare For Art Commissions: The Ultimate Guide to Art Commissions
Artists are often asked to do commissions for people, whether it be a painting, sculpture, or another work of art. While this can be a great opportunity for an artist, there are also some potential cons to consider before accepting a commission to avoid bad experiences. In this article, you'll review:
The pros of doing commissions
The cons of doing commissions
How to price your work when doing commissions
Things to keep in mind when completing a commission
After the commission is complete
Dealing with difficult clients
Ways to get art commissions
Finally, access to a Workbook with 5 Key Questions to Consider and a sample Invoice
The Pros of Doing Commissions:
1. Art Commissions are a great way to earn extra money.
For many artists, including myself, this is my top way to earn an income. What's funny, is for many independent artists typically do not set up to take commissions, they happen upon it. It comes with experimentation and following of your gut to create a piece because it interests you! The spark of interest with happens when the artist makes the piece visible either when you submit a new piece to social media, or have a piece in an exhibit, or go to an art fair. The key - is releasing the piece to the public!
2. Commissions can help you build your portfolio or add new pieces to your existing portfolio.
If you love the idea of doing commissions for a particular subject, you'll want to build your portfolio - and fast. This is super easy to do because 1) you are inspired 2) you can see a way to create, gain income AND get the artwork out of your studio! The key next step is to ask or make it known that you are accepting commissions for that particular subject matter. Ask friends, and neighbors, and/or even post on social media.
The question of payment will come up. I recommend using the Art Pricing Calculator to determine the price to ask, and I also recommend using the "wiggle room" feature because you gaining commissions with the expressed purpose of expanding your portfolio.
3. Commissions can help you expand your audience and meet new people.
One of the toughest things in any business is getting in front of the right people. But this is the beauty of accepting commissions! When you begin accepting commissions you are likely to niche down to a particular subject. For example, you love to paint doors like artist Viktoria Kravchenko who travels the world painting doors with watercolors. Super niche! But with that niche, she can easily target real estate agents, travel agents, and visitor centers to offer to complete commissions. She can also then take those pieces and create prints to sell at the gift shops in cities where the door is located. The door opens up to possibilities!
4. Commissions are a great way to learn new techniques, play with new subjects, and experiment with new mediums.
Julie Noles is an excellent example of this! Julie mentioned in her interview, that she is primarily a pet portrait artist, but one of her friends asked her if she could paint their house. She LOVED it! Since she has done several in graphite and oil.
You never know until you try and you have to be willing to take the adventure.
5. You can set your own price and terms.
One of the many perks of being your boss is that you are your boss! So that means you create the schedule to address commissions, the terms that you want to administer commissions. But this often comes with some lessons learned as well, I'll cover those in the next section.
The Cons of Doing Commissions:
1. It can be time-consuming.
It is time-consuming when you first start taking commissions for one primary reason, you don't have a lot of experience and that creates discomfort and that leads to over-thinking and over-painting.
There isn't a way around this except to just hop back on the bicycle and keep peddling until you find your grove. I will, however, recommend a clause to add to your contract to limit the number of changes, or when you'll accept changes that won't result in a fee. Here is my exact wording:
"CHANGES TO WORK PRIOR TO COMPLETION

A Party may request that changes be made to the drawing/layout before painting the work. Changes to the drawing/layout requested after the application of paint may result in a monetary change of $50/hour and/or delivery date change.

The party requesting the changes shall present the proposed changes in writing to the other party for further review and approval. Upon the client's request, Artist will provide a detailed description of any significant changes in the concept, scope, dimensions, and/or materials, or any change that will alter delivery timeframes, or the work itself."
The purpose is to clearly identify the process and leave no room for miscommunication of expectations.
2. It can be stressful if you're working with a difficult client.
It can be stressful if, again, you don't have a lot of experience. Just remember that your job as a commissioned artist is to provide a piece of work that the customer will enjoy viewing for years to come. So if it appears as though they are being "difficult" don't respond right away. Take a breath, step away from the phone or email with a moment to consider their viewpoint. When doing this, I've often found that I can see their point and I'll make the adjustment.
That said, yes there are difficult clients. My definition of difficult are the ones who change their minds multiple times. My best advice: gently say "I can appreciate your perspective and unfortunately I don't think I'm going to be able to meet your expectations." And the 3 times I've had this happen in 10 years, 2 said I was right and to continue and the last one I completely refunded because I just didn't want the headache. (this brings us to a Pro - this is your business).
If you are at a point of deciding whether you want to do commissions or not, check out the article "5 Questions to Consider BEFORE You Take Art Commissions" the article includes a free workbook and sample invoice.
How to Price Your Work When Doing Commissions: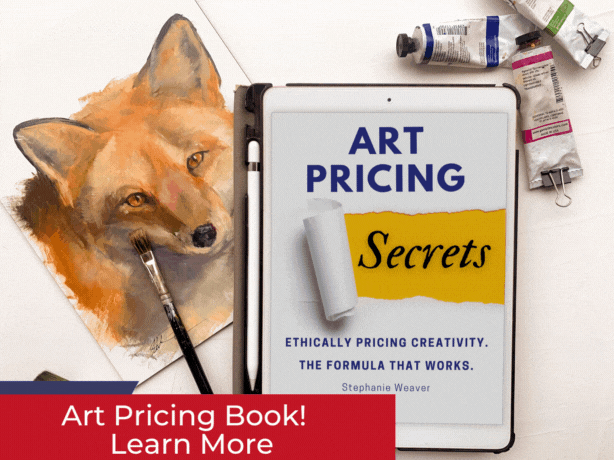 Pricing your commissions should be approached the same way that you would price any piece. Using the art pricing formula from the Art Pricing Secrets: Ethically Pricing Your Creativity. The Formula That Works. Book you'd input your experience level with that subject/medium, the number of projected hours to complete the commission and the cost of materials. Document that price so that you know, moving forward, that this will be the base price for that type of commission for the year. As you gain more experience with the subject and medium, go back to the art pricing calculator to adjust your experience level and the other variables of time and cost of materials.
Another important piece of advice: ALWAYS take a non-refundable deposit. The amount of the deposit is up to you. Here are my terms:
"PAYMENT

A 50% deposit is required to start the work. Once I've completed the drawing the 50% deposit is not refundable. The remaining balance plus shipping is due within 30 days of completion. A final invoice will be electronically provided by the artist upon completion and prior to delivery. The artwork must be paid in full prior to delivery.

Framing is not included with the painting, however, the client may choose to add framing at an additional cost following the completion of the painting. Framing options and cost may be discussed following the completion of the painting."
There are several reasons to obtain a deposit:
It ensures that you receive some form of payment for the work, in case the buyer skips out.
It ensures that the buyer has some skin in the game to complete the project with you.
It shows that you take this work seriously.
It shows that you know your artwork's value and the client agrees that the work is valuable.
Things to Keep in Mind When Completing a Commission:
1. Make sure you understand the terms and conditions of the commission before starting work.
A first impression is incredibly important. On your initial contact with a potential patron, they more than likely haven't commissioned an artist before, so you are the authority figure, you have the skill set that they love and even if you are not yet a 'professional artist' you'll need to exude confidence. So when discussing the terms of service, the prices, and such, stand tall, speak with a kind authority, and an unwavering truth about your pricing, terms, and process. That confidence will provide the client comfort.
Let them also know that you'll provide the terms of service in writing as well so that everyone is on the same page. In the beginning, this is a bit awkward feeling, but I promise you, it gets easier and becomes automatic.
2. Keep track of the time it takes you to complete the commission.
Even if you've been painting commissions for years, still continue to track your time so that you can appropriately adjust the time in the Art Pricing Calculator. As your experience level increases, your time may decrease which means you can take more commissions, if you want, and increase your earning potential. So for example, last year it took you 6 hours to complete an 8x10" landscape, this year it takes you 3 hours - you can take on another commission and do it with the quality and artistic integrity you demand of yourself.
3. Communicate with the client throughout the process, sending them updates on your progress.
Be careful with this one, providing too many pictures along the way can lead to micro-managing your artistic process AND the client may not see the end vision you have in mind. What I do is send the picture of the drawing for approval, once approved I start painting. It is only right before the finishing details (like whiskers, fine hairs etc), that I'll send an "almost finished" picture. In this email, I say something to the effect of:
"Hey xxx,

I hope you are doing well! I just wanted to give you an update on XXX. I think I'm almost done, I have a few finishing touches to add like the whiskers and final highlights to really bring out XXXX, but before I do I wanted to check with you to see if there are any questions/concerns. If none, I can add the finishing touches this week and the painting will be ready to go home by XX!

I look forward to hearing from you!

Sincerely,

Steph"
4. Make sure you retain the copyright to the commission.
Copyright of the finished piece belongs to the artist, but many people are not up on the details of this. So you'll want to include this language in the terms of the agreement and I also add it to the certificate of authenticity. You can grab my Certificate of Authenticity template here.
Here is the language I use:
"COPYRIGHT AND REPRODUCTION RIGHTS

The Artist shall retain all rights under copyright law to which the WORK, preliminary studies, drawings, specifications, and models may be subject. The Artist represents and agrees that the Artist is the sole creator of the work and that the work has not been previously displayed in whole or part, and that nothing in the work will infringe the copyright of any third party. Nothing shall prevent the Artist from creating future artwork in the Artist's manner and style of artistic expression.

The artist grants to buyer solely the singular work detailed herein. For the avoidance of doubt, the Artist grants no right(s) of reproduction in any format."
Word of caution as well, when you receive pictures from the client for the commissions, ensure that they either took the picture or they received in writing permission from the photographer for you to paint the painting using the reference image.
6. Deliver the commission in the format specified by the client.
Commissions come in all shapes, sizes and formats. So you must be clear in the expectations in the agreement. For paintings, it's pretty cut and dry. The tricky part of the format comes when you start issuing digitally created artwork and/or files.
For example, if you are doing a book illustration commission. You'll want to outline in the agreement that the original piece of art remains with you unless purchased separately and the digital format that you'll provide the files, and what the digital files may and may not be used for in terms of use, and the number of editions the work may be used in.
After the Commission is Complete:
Once the commission is complete and both parties agree it is complete. You get to wrap that art piece up and send it home! But don't just stop there! Ask for a testimonial, ask for a picture of the finished piece hanging or a signed copy of the book. Not only are these fabulous fodder for social media and newsletters but they also give you a wonderful sense of satisfaction.
Ways To Get Art Commissions
My top 5 places to obtain commissions for fine art pieces are:
Referrals, which is why testimonials are so important!
Social Media, which is why it is important to show your artwork!
Local Organizations, which is why it is important to get out of your studio to show and discuss your work and how it can help others.
Google My Business. If you have a business license, Google My Business is an excellent advertising tool for small businesses to be found as local artists who commission and/or teach.
Making New Connections. A great place to get commissions are art shows and Networking Organizations is what started it all for me. I went to networking events and participated in art shows (and I still do!). People LOVE to talk about art and being an artist - and believe me you and your profession are way more interesting to everyone than the banker or realtor in the room. Just remember, exude confidence, even if you are an introvert, this is exceptionally important.
Now I say Fine art pieces because if you are commissioning for illustrative or digital artwork there are other methods to obtain commissions like:
Reddit to get in touch with writers
Fiverr
Deviantart
Even Etsy has listings for digital artworks
Magazines are often looking for illustrators
Book Publishers And so on.
For more about the Top 5 places get fine art commissions, read or listen to this article "How to Obtain Art Commissions".
Conclusion:
Whether you're an experienced artist or just starting out, doing commissions can be a great way to make extra money and build your portfolio. Just be sure to carefully consider the terms and conditions of each commission, and ask for a deposit before starting work.
Pin It For Later